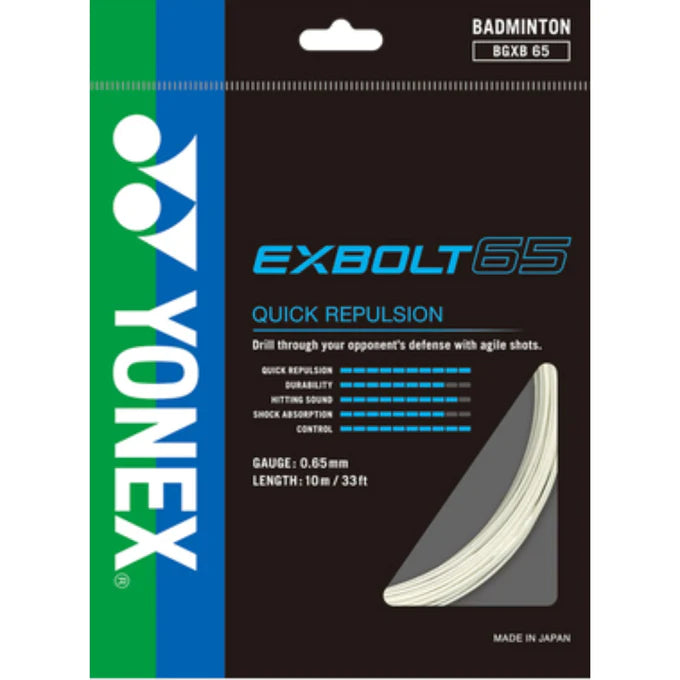 Yonex EXBOLT 65 Badminton String
Introducing a brand-new addition to the EXBOLT string series, the Exbolt 65 badminton string. Similar to the Exbolt 63, the EXBOLT 65 is constructed from a proprietary material called FORGED FIBER which combines durability, thin gauge, and quick repulsion all into one. With the EXBOLT 65, a new layer is added over the top of the FORGED FIBER called the Elasticity Outer which increases the hold and improves overall control. 
FORGED FIBER is a material developed from a fiber with high intermolecular bonding strength, durability, and heat resistance. Ordinary nylon had a limit to the strength of its fibers, which is why Yonex reconstructed the fibers on a molecular level to build stronger bonds for lasting durability. To increase overall control a new extra coating, the Elasticity Outer, was added for increased shuttle hold, making the new EXBOLT 65 a triple threat. The Elasticity Outer is a coating with enhanced flexibility achieved by applying NANOALLOY technology to nylon. The result is a combination of quick repulsion, durability, and control.
Specifications:
Material: HIGH-INTENSITY MULTIFILAMENT NYLON, Forged Fiber
Length:

 

10m (33 ft)
Gauge:

 

0.65mm
Quick Repulsion, Durability, and Control

---
---
More from this collection